We have seen it happen time and time again…
After achieving a 3-pack ranking, the phones do not stop ringing. Not to mention, these calls continue to come in for years with little to no maintenance and no extra investment!
That is why we put together a comprehensive Google Maps ranking service. This service is fully done for you and consists of everything we have learned while ranking 100+ websites in the 3 pack.
How Does It Work?
On this call we will discuss your business's goals and how our services can help you achieve them.
Step 2: In-Depth Audit and Marketing Plan
You can think of us like an SEO mechanic. We don't know what needs to be done to improve the rankings of your website without first taking a look under the hood and performing a diagnosis, which in our case is an SEO audit. This costs $200, and will come with a full marketing proposal of what needs to be done, how long it will take, and what it will cost for us to implement the SEO work for you. Similar to a mechanic's diagnostic fee, if you choose to purchase our services, we will gladly waive the $200 audit fee.
Step 3: Let's Get Started
If you choose to use us as your SEO company, that's great! We will be flattered and committed to getting you results. You will be paired with an account manager that will take care of you throughout the ranking process and will also provide you with on-going reports so that you can keep up to date.
Step 4: Analyze Results and Recommend New Opportunities
Once the project has completed and sufficient time has passed for Google to react to the SEO changes, we will set up a call to analyze the results with you. Based off of how Google reacted to our changes, we can recommend further SEO improvements.
Success Stories
1) Keyword: Plumber Coronado. Ranked within 2 months.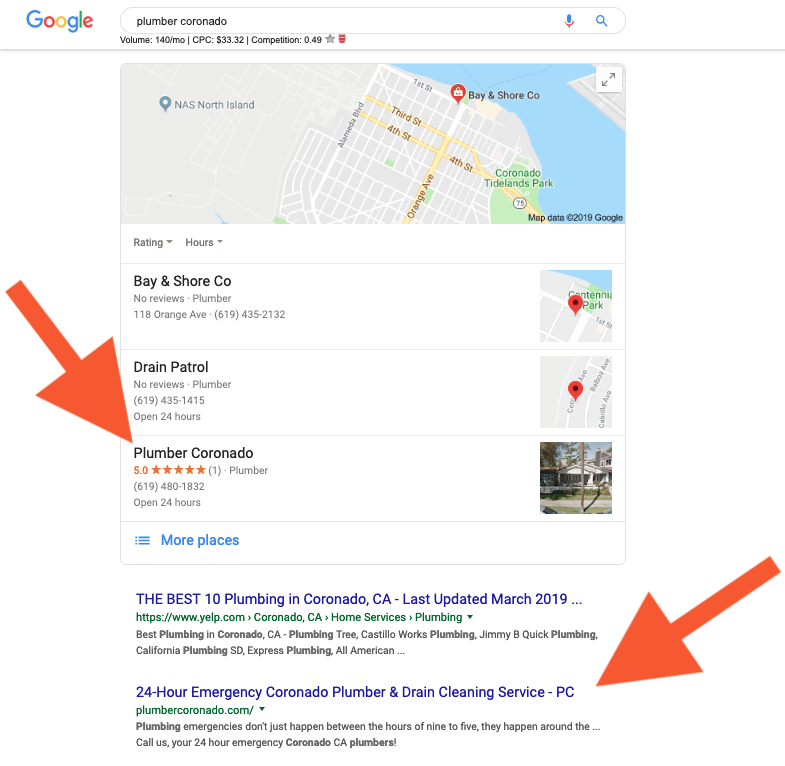 So What Are You Waiting For?
Book your call now to rank higher on Google Maps and bring in more revenue!